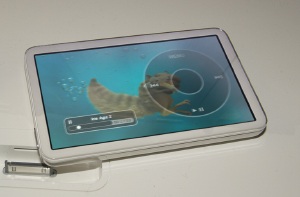 This morning, I realized that if Apple produced a product like the fake on the right, it would be the worst iPod in terms of functionality.
The fakes based on the patent diagrams seen a while back seem cool but are actually a step back in functionality. The iPod AV as visualized would:
not allow you to operate it from within your pocket
not allow you to receive a tactile response for any of your actions (click of button)
would require that you almost always have the hold switch active due to the large active surface
So the question as I lay there thinking about the dream was, how can Apple make an ipod that looks like the fake but works as well if not better than the current generation.
I came up with a few realizations.
Fingerworks technology. I own and use a Touchstream LP keyboard. So I am familiar with the power of gestures on the touchstream. An iPod with fingerworks could detect how many fingers are being used. So for example:

2 finger strokes for volume control
3 finger strokes for seeking
3 finger tap for pause/play would allow an iPodAV to operate in your pocket.

Screen as rocker. It may be possible to have the whole screen tilt/rock like the wheel which would be interesting.
I guess we'll see what Apple comes up with.
Photo is from the gallery at macrumors.com
Tags
:
ipod
,
macrumors
,
fingerworks